Do-it-yourself Honeymoon Matchmaker System That Will Perfectly Match You to the Best Resort for Your Honeymoon!
If you want the freedom and control that comes with planning your own honeymoon, but are dreading the hundreds of hours it will take to research all the available locations, resort choices and travel planning to-dos, then my D.I.Y. Honeymoon Planning Matchmaker System was created for you!
My Years of Training, Knowledge, and Experience, at Your Finger Tips, Helping You Every Step of The Way, to Plan The Perfect Honeymoon
It has taken me many years of training, visiting resorts, and many hours of experience working with my clients designing their perfect honeymoon to discover the key ingredients to matching you to your ideal honeymoon location. And, now, I'm able to offer you all of that insight and guidance in an easy, affordable system that you can implement on your own at a fraction of the cost that my full service clients pay. My full service clients pay up to $500 for me to help them design and plan their honeymoon.
My DIY system includes all the essentials for planning your honeymoon:
We had a WONDERFUL time on our honeymoon! Best vacation EVER. We are definitely planning on going back there at some point. The pictures cannot even begin to describe the beauty or service that we received. We'd have never found it without you. Thank you for making our honeymoon the most memorable week of our lives!- Thanks again, 
- Tim and Rebecca Honeymoon in the Riviera Maya, Mexico
It Really Is As Easy as 1, 2, 3!
Where do I begin? Thank you so much for giving us the honeymoon of our dreams. It was so perfect! We had so much fun. I still miss Jamaica and the resort. It was so wonderful there and we were able to create so many fantastic memories as husband and wife. Plus you made everything so easy and simple that it was nice to relax after such a stressful time. Always, 
- DaQuory and Natosha, Honeymoon in Jamaica
Plus, Enjoy These Bonus "Thank You" Gifts from Me
My D.I.Y. Honeymoon Matchmaker System is a great program all by itself and may save you weeks of unnecessary work and potentially hundreds of dollars in costly mistakes. But because I'm so excited to have you as my next success story of another couple who found their dream honeymoon location, I want to give you a few extra "thank you" gifts for letting me assist you in the planning process.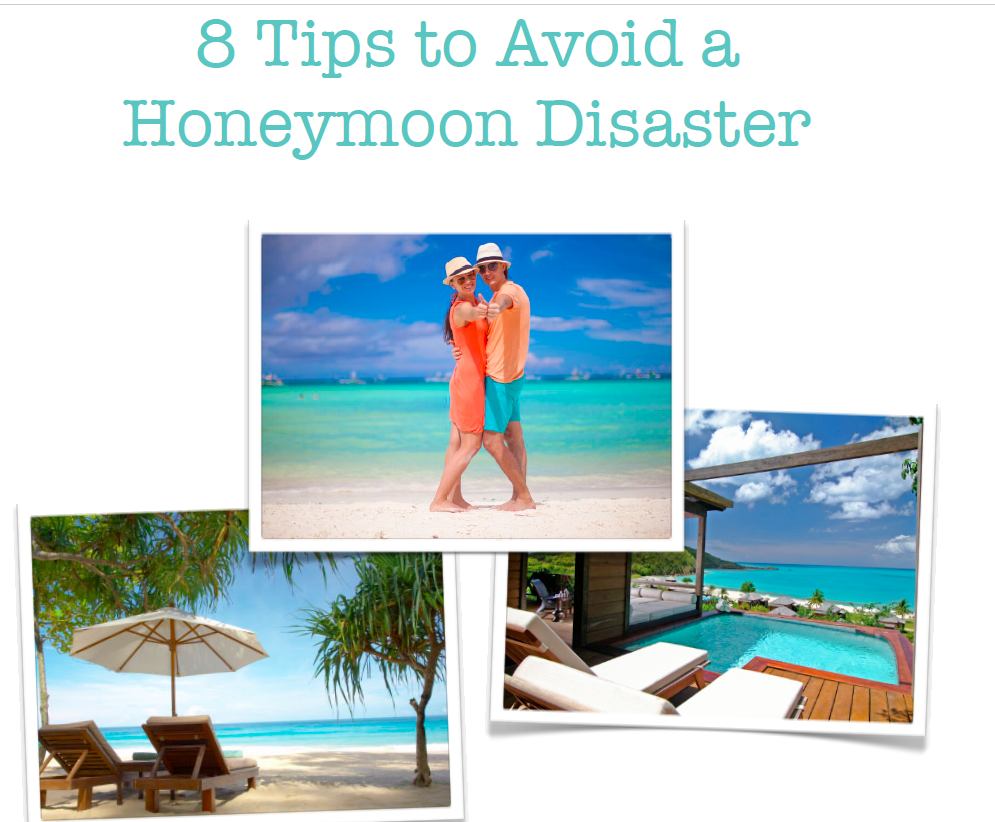 Bonus Report: 8 Ways To Avoid a Honeymoon Disaster
You and your fiancé will find out exactly what type of honeymoon experience fits your personality as a couple to fulfill your honeymoon dreams. Instead of looking at endless resorts, you will now know exactly what you want so you can spend time only on those resorts that fit your profile. Rather than bickering about which location fits you best, the decision will be easy and based on criteria you created together, as a couple.
Bonus Checklist: 15 Month Honeymoon Planning Checklist
You won't miss a single honeymoon detail with this 15-12 month honeymoon planning checklist. My checklist will keep you organized and on track every step of the way with your honeymoon planning!
Bonus Membership in My Private Face Book Group
The reality is, sometimes questions come up! That's why I am offering a Private Facebook Group only to my D.I.Y. customers. Ask a question and get quick expert guidance when you need it. You will also receive special Invitations to exclusive Facebook Live events as well.
We had such a great time in Barbados! The weather, resort, food, and activities were so amazing! It was absolutely beautiful! Thank you so much for helping us to decide where we wanted to go, and what resorts would be best for us (and our price range)!! 
- Keith and Danielle, Honeymoon in Barbados
Ready to find out more?
Get Instant Access Now for $197
My personal 30 day money back guarantee
Of course, I stand by my matchmaking success record and want you to be thrilled with your purchase of this do-it-yourself program. You have a full 30 days to complete the system, including all the tutorials, and if you still don't feel that this system can help you identify the right location and resort for your honeymoon, I will return 100% of your full investment.
Frequently asked questions and answers
Ready to find out more?
Get Instant Access Now for $197